There is a familiar hustle and bustle at the beginning of every school year — full of nervousness and excitement for both children and parents. Families hope that the new year brings new opportunities and that they are prepared for the possibilities ahead.
At New Moms, we are always thinking about school readiness because we know education is an important part of a family's long-term well-being. In fact, one of our primary goals is to help young moms prepare their children for kindergarten. Did you know that we serve over 400 children through our programs every year? That's more children than any single K-8 Chicago Public elementary school in our neighborhood of Austin!
So what does it take to be ready for school? Of course there's that basic school supply list — pencils, pens, markers, notebooks, etc. But it is much more than that.
Research shows that age 0-5 is a critical time for a child's development and as their child's first and best teacher, parents play a crucial role in school readiness. This is why New Moms coaches offer support and guidance on developmental milestones, helping young moms learn ways to unleash their children's potential to grow and thrive!
The impact of this work is significant. Studies have shown that children who meet developmental milestones leading up to kindergarten have higher achievement rates in elementary school and beyond. Educational attainment is a fundamental indicator of lifelong wellness impacting all areas of life.
With a donation to New Moms, you can support the children in our programs as they form developmental building blocks to prepare for school – and in turn – for life! We need your help to raise $25,000 by the end of the Summer, September 21. Your gift will ensure New Moms can provide coaching and support to young families during this critical time of growth and development!
Fundraiser Update!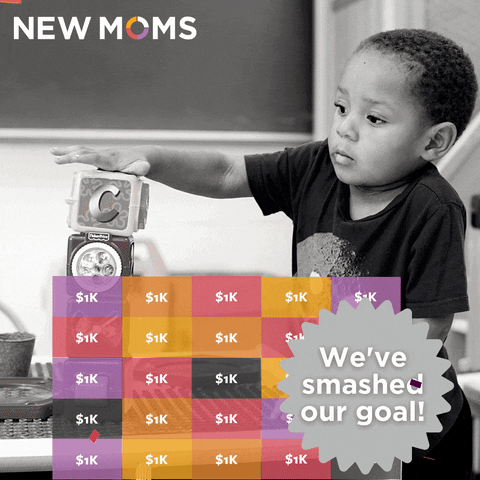 *Each block stacked is $1,000 raised. Help us reach our $25,000 goal!